Pathfinder Club

Enjoy backpacking? Biking? Canoeing? Caving? Camping? Want to be an active young Christian on an adventure with friends who love Jesus? Then join Pathfinders. Club members enjoy club meetings, camping, and service adventures designed to develop Christ-like citizens.

We are always looking for parents and other adults that are willing to help kids develop all types of different skills and help them grow in their Christian journey.

The Pathfinder Club is part of a world-wide co-ed scouting type organization sponsored by the Seventh-day Adventist Church. Juniors and teens in grades 5-12 of any religion, or none at all, are welcomed and encouraged to join this ministry.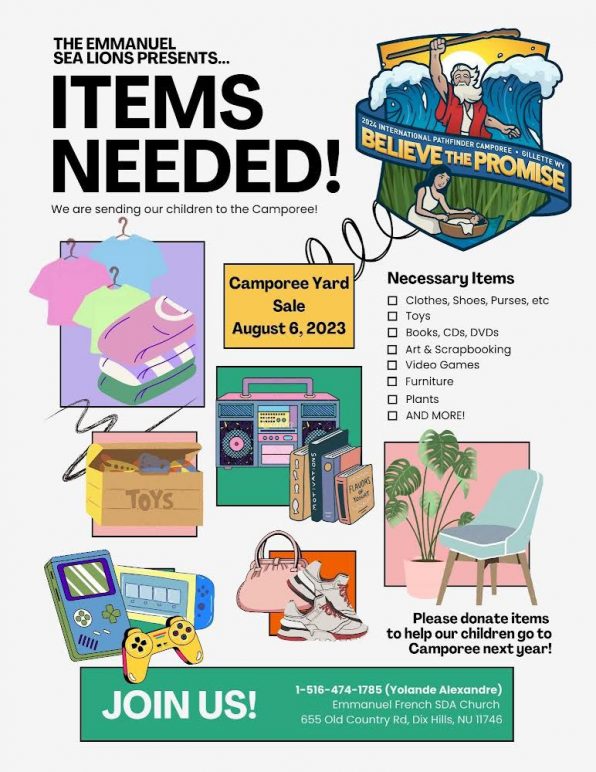 The Emmanuel Sea Lions Pathfinder and Adventurer Club would like to attend International Pathfinder Camporee, which will be held in GILLETTE, WYOMING, on AUGUST 5-11, 2024. Our first fundraising will be a yard sale on Sunday, August 6th. We are asking for the following items: hardcover books, toys, clothes for adults and kids, crafts & scrapbooking, art, CDs and DVDs, power tools, video games, video consoles and controllers, stools or small chairs, ties, purses and handbags, skis, plants, Children's Clothes, Collectables, Home renovation supplies or cast-offs, furniture, bikes, scooters & skateboards, anything that we can sell to raise funds for the pathfinder and adventurer club will be appreciated. For more information, visit: https://www.camporee.org/








 







 




ALL ABOUT PATHFINDERS

     The whole philosophy of Pathfindering is built on the premise that "children learn best by example, rather than precept." As they see leaders and parents model spiritual and social values, they too will aspire to develop high moral principles, loving and caring attitudes, and determination to excel in all their various pursuits.